Monster Truck Fun for Around $200 | Traxxas Stampede
Wheelstanding monster truck fun for around $200! Stampede packs the ground clearance and all-around performance to take your R/C fun anywhere. The powerful Titan 12-Turn modified motor powers through grass and over obstacles, and the included 7-cell NiMh battery and 4-amp charger keep the fun going all day long. Oil-filled Ultra Shocks soak up the bumps, and waterproof electronics mean a little rain won't slow you down. This is monster truck fun at its best! For more info, click here:
https://traxxas.com/products/models/electric/36054-1stampede
Current Builds From Customers
What's special about this one?:
Winch & Shock Modifications. 

We want to hear from you!
Email us your comments & questions.  Let us know if you'd like more of these.

Contact us any time.  We'll answer as fast as we can (between helping our amazing customers and building our own planes, trains, quadcopters, rockets and robots - oh yeah and we are pretty good pool players too - check out our Billiards pages and our showroom.  We look forward to meeting you.

Sincerely,
HobbiesColorado.com
Quadcopters and Drones
The face of RC flight has seen a new surge in the amazing technology of quadcopters over the last few years combining advancements made in both the government and civilian versions. What began as a means of remote operated recon grew into a new venue for the hobby community with models such as the Blade 180 QX HD and its higher tier counterpart, the Blade 350 QX2 AP; both complete with GoPro camera system. These kits provide ready-to-fly simplicity right out of the box and perfectly capture the thrill of precision handling coupled with impressive power.

But, what separates a market assembly from the stuff the government uses? Well, not much actually. Both iterations of the technology rely on a sophisticated combination of four rotors that spin in corresponding pairs of clockwise and counterclockwise directions. The speed of each propeller is dictated by an onboard computer which allows the craft to precisely adjust lift and torque, as well as provide pitch control to the operator. The major difference between the federal and civilian grade models lies chiefly with the materials used in construction and the purpose each device is used for.

While the government and other agencies (rescue workers, intelligence, and even cartographers) utilize the unique properties of these drones for specific tasks, hobbyists the world over have taken up the technology as a fun and innovative new way to enjoy RC flight. Several hobby communities, including Hobbytown USA, have begun staging conventions and events involving the new kits and even professionals have joined the ranks. Using the unrivaled stability of the platform and its ability to carry video and imaging equipment, enthusiasts everywhere are starting to discover great new ways to capture their lives in motion.

So whether you're a seasoned flyer looking for the next big thing in RC or a newcomer to the community, there remains little doubt that the quadcopter might just be the model that changes it all.
Model Railroading Article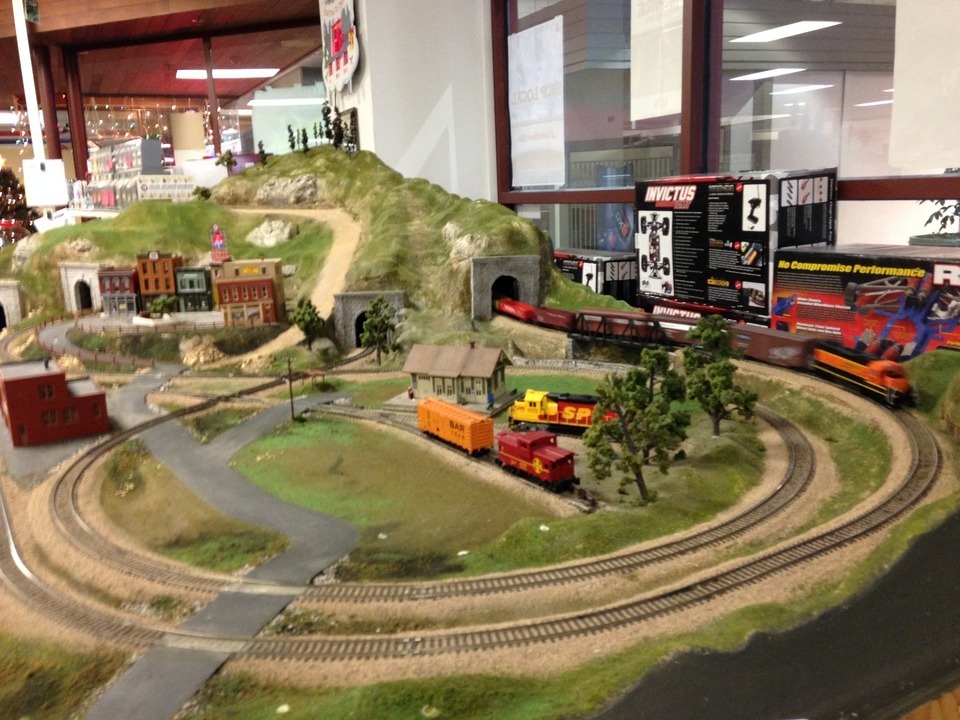 Don't miss our recent Model Railroading article from our Colorado store site.
 
Trains and Model Railroading
Welcome back hobbyists! Today we'll be discussing one of the oldest forms of hobby modeling, trains. Dating back to the early 20th century, replica trains were originally produced as children's toys without any sort of scaling or standard. They were simply created according to the designs of specific manufacturers. Today, however, the model train community enjoys a wide variety of standardized 'gauges' (or scales) to ensure that you'll know exactly how big of a track or accessory you'll need to make your engines look right at home!

Of the several varieties of gauges that have been introduced over the years, Hobbytown USA prominently features three of them, though both larger and smaller scales are also readily available. The following guide outlines the differences between them and how they are most commonly used.

G Gauge (1:24) - The specialty Garden, or 'G' gauge, is quite the impressive sight to behold but you won't often see it crammed into an indoor space. It was named for its propensity to be placed outdoors, you guessed it, in the garden! This scale is known for its detailed paint due to the larger size and for their durability, designed to weather the elements and remain both functional and beautiful for years.

O Gauge (1:48) - The largest scale we regularly stock, this gauge features medium detail and sturdy pieces. This scale is commonly associated with models for children due to their hardiness and can withstand a high amount of wear-and-tear, making them ideal for introducing the little ones to the hobby.

S Gauge (1:64) - One of the oldest scales in model training, the earliest known models being constructed from card stock in the late 19th century. This gauge enjoyed its highest level of popularity in the 1950's but it remains one of the most beloved scales in modeling due to its classic style and rich history.

HO Gauge (1:87) - An intermediate scale, the 'HO' gauge is the widely accepted standard for serious enthusiasts. With high amounts of detail and reduced size from the O gauge, this scale is what you will often see spanning the rolling hills and quiet mountain hovels of a basement countryside. Although this gauge represents the most popular size for realism and accuracy, it isn't just for the pros! Hobbytown carries a healthy selection of starter sets that are perfect for beginners or as gifts to the future hobbyist in your life!

N Gauge (1:148) - This scale is frequently seen in sets containing everything you'll need to enjoy the model and features tiny replicas of historic railways. The major advantage of this gauge lies in its size, small enough that a basement or hobby room could hold an entire wonderland of railed transport!

Z Gauge (1:220) - The smallest scale there is! Well, almost; when it was introduced in 1972 it was assumed that it would be impractical to manufacture anything smaller. However, several attempts have been made to shrink the scale down further but they remain as niche models and are not very common. This itty-bitty gauge is known for being so small that an entire alpine village could fit inside a briefcase with room to spare making them perfect for the hobbyist looking to create the illusion of looking down at the earth from an airplane.

At Hobbytown USA, we feature an unrivaled selection of these wonderful pieces and an expert staff who can help you create whatever your imagination draws up, literally! Just bring in a sketch of what you'd like your track to look like and the dimensions of the room you'd like to place it in and our professional staff will find the best way to construct it using the highest quality pieces.

With quality brands including Lionel, Athearn Trains, Bachmann, Walthers, U Line, and Woodland Scenics, even the most devoted hobbyist will find what they're looking for. And if you can't, our dedicated staff will order the parts you need, ensuring that whatever piece you're missing, we can help you find it!

We also hold a large collection of pre-owned trains and cars, some of fantastic rarity and value to collectors. If you have a piece that you believe may hold a special place in model train history, bring it to us and our experts will appraise it for you free of charge! That way, you'll know exactly what you have whether it's a model you'd like to sell or one you'd hand down to the next generation of enthusiasts.

So come by today, whether you're new to the scene or an expert of the rails, Hobbytown USA is your home for the greatest selection, the friendliest staff, and truly the best models around!